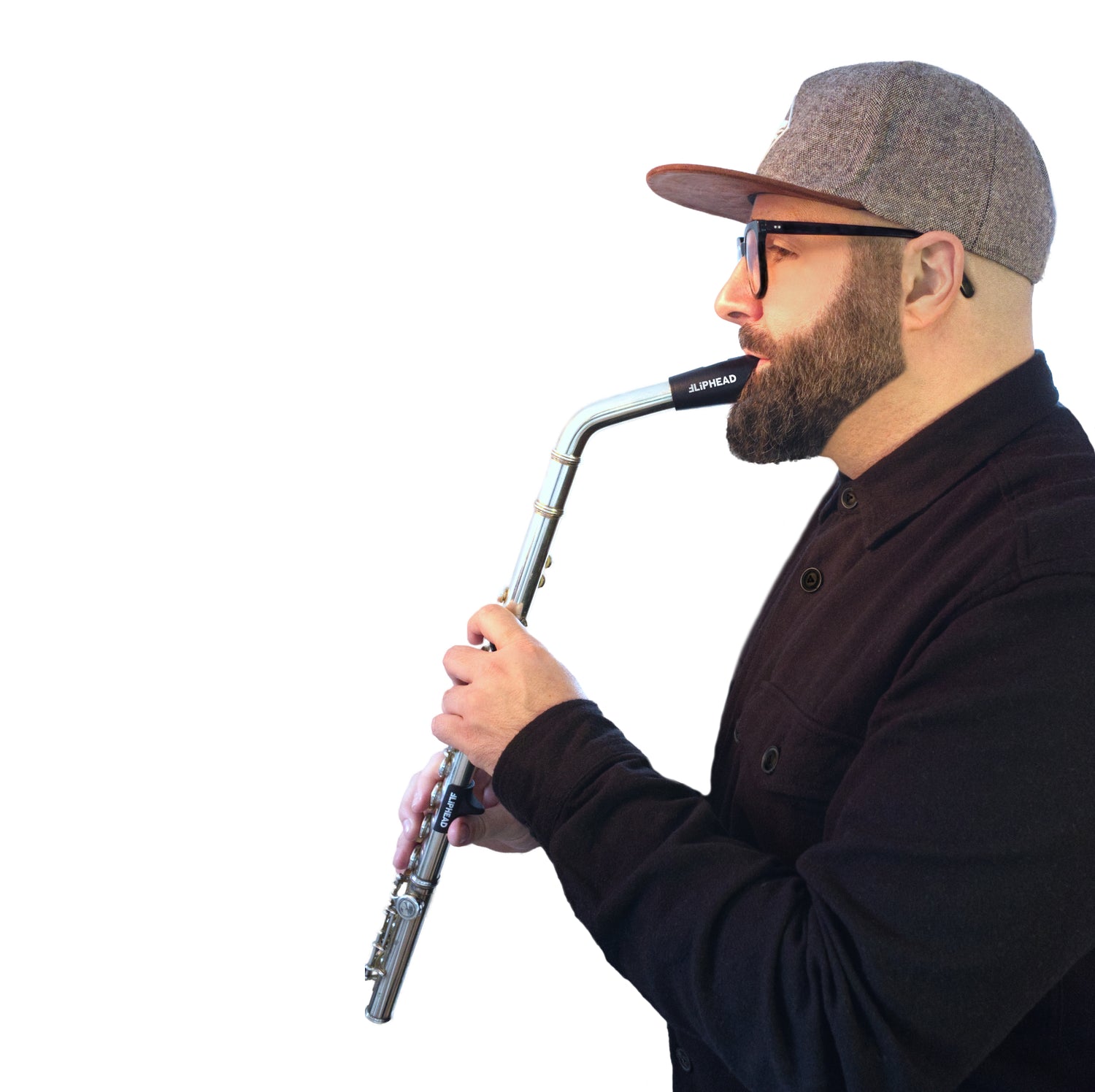 FLIP YOUR FLUTE
THE NEW STYLE OF PLAYING THE FLUTE
innovative & patented mouthpiece design 
easy to learn for beginners
ideal for saxophonists & clarinetists doubling on flute
ergonomic playing position 
works with all common c-flute bodies 
designed & produced in Germany & Austria
see all products in our web shop
COMPLETE BUNDLE

The Fliphead comes as a complete Bundle with Headjoint, Thumb Rest and protective Pouch. You can choose between our original Fliphead mouthpiece or our lastest "Flow"-model.

WORKS WITH ALL FLUTE MODELS

The Fliphead is an alternative headjoint that works with all silver flute models. It is available as a single headjoint or as a bundle with our student flute model.

ERGONOMIC THUMB REST

When playing vertical flute our clip on thumb rest is a helpful tool to balance the flute easily. The thumb rest is part of every Fliphead bundle and can also be ordered as a single item.
TWO MOUTHPIECE MODELS

We offer 2 mouthpiece designs: the initial Fliphead AM-1 model and the AM-2 Flow model. Both pieces have their own sound and playing feel. They are interchangeable and can be used with the same neck. Our mouthpieces pieces are machined accurately in a one-piece-design (laser-sintered, not 3D-printed or injection-molded!). The material is very durable, scratchproof, biocompatible and has excellent sound qualities.

MORE AIR, OPEN SOUND

The initial AM-1 Fliphead mouthpiece has an open wind way and a large chamber. It has very little resistance and creates an open sound. The high register is louder and needs more air compared to the Flow model. Sax players who are used to play open mouthpieces often prefer this model over the Flow model.

LESS AIR, MORE RESISTANCE

The AM-2 Flow model has a narrow wind way and a smaller chamber size. It has slightly more resistance. Players that want to use less air - especially in the high register - will like the new Flow model. This one is a good choice for classical players and beginners or can be a second sound option. The sound is less spread and slightly softer. It also helps to play longer notes.
IDEAL FOR BEGINNERS

The easy to learn embouchure makes the Fliphead ideal for beginners of all age, that will literally play the first scale in just a few minutes.

UNIQUE SOUND

Experienced woodwind players enjoy the unique sound the Fliphead offers and folk flutists use it as a fully chromatic whistle that works in all keys.

DOUBLING ON FLUTE

Due to it's easy to learn embouchure, the Fliphead can be a perfect transition from sax to flute playing. With Fliphead the sax-section in school bands, lab bands and jazz orchestras can start doubling on flute easily.
"Lifesaver for Reed Players"

The Fliphead opens up a whole new world of possibilities. It does not replace the conventional head joint but adds a new sound option. [...] I had it fitted to my flute and it plays simply amazing. It takes away the difficulty I'm having with the embouchure being a reed player. Love it! [...] Classical purists kill me now: It sounds better than the straight head :)

"Finally, an affordable, chromatic, low Irish whistle!"

I enjoy playing Irish traditional music and always wanted a chromatic, low whistle. This Fliphead is fantastic! Hard to put down, I'm enjoying it so much. Brilliantly turns my Boehm flute into a low whistle and at a very affordable price. Not sure I'll be playing it with the transversehead ever again.

"Awesome"

Fantastic when a 4th set flute part surfaces and your embouchure is fading! I'll probably still use the traditional headjoint for recording but it's great for live performances. [...] It fits my Yamaha flute like a glove and tunes easily. All three octaves are easily playable. If you look for a sound extension you will like the Fliphead!

"Low whistle but chromatic scale (and better range)"

This is just so radical! Love the concept. Thus is not a flute replacement (you will get the hairy eyeball from your band instructor), but in many ways an upgrade to a low whistle. Irish music purists will cringe as the cranns, cuts, strikes and slides are very dependent on the way your fingers interact with the holes (open hole gets you halfway there). But now I can play a low whistle in any key I choose.

"Excellent solution for embouchure and playing position issue"

I am a saxophonist and have always wanted to play flute as well. I am unable to make a good sound on a traditional head joint because of a peaked shaped upper lip and limited range of motion in my right arm due to an accident. The "Fliphead has solved both of these problems for me. Not only have I been able to get a great tone, but the new playing position is very comfortable for me. I been working with it for about 2 weeks and now I'm ready to take it out on a gig! Great Product!

"Flip Head Alternative flute head joint!

Absolutely love this addition to making my flute more versatile! Good tone I love the economics of being able to hold the instrument now my side.